Come Dare with Us!
Renee Sievert, Jennifer Johnsen, and Jennifer Voss
October 5 – 6, 2018 – Daring Way™ Intensive
October 7, 2018 – Optional Half-day Equus Coaching Experience
Knoxville, Tennessee
Registration for this event is now closed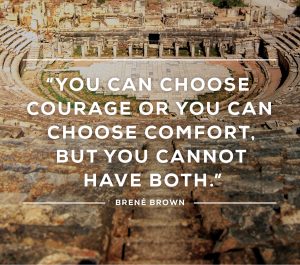 Where do you need to give yourself permission to show up and dare to be brave?  At work?  At home?  In your relationships with others?
What are the arenas in your life that require you to armor up and strive for perfection? Is it time for you to be courageous – to show up as perfectly imperfect and embrace your full humanity?
What would it be like to say "yes" to the part of you that dares greatly and trusts that you are enough?
This workshop will provide you with a toolkit of daily practices that transform the way you lead, love, parent, and live your life. This 2-day gathering is an interactive and experiential dive into the life-changing work of Brené Brown. Attendees will be invited to embrace freedom by moving beyond fears, self-criticism, and doubt to discover the possibilities of true authenticity and wholehearted living.
Facilitators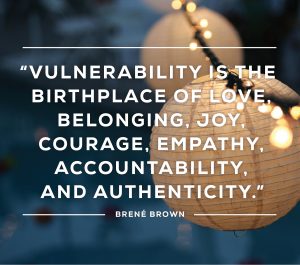 Renee Sievert is a Certified Daring Way™ and Rising Strong facilitator, trained by Brené Brown.  She's an author, speaker, coach, and consultant with over 30 years of experience in the areas of leadership and team development. Renee is also a licensed Marriage and Family Therapist (MFT) and a member of the Motivational Interviewing Network of Trainers (MINT) and the International Coaching Federation. She is a qualified provider of Gallup's Strength Based Leadership assessment, the VIA Pro: Character Strengths assessment, certified in the Leadership Circle Profile™ 360 assessment tool and the Leadership Circle System of leadership development.
Jennifer Johnsen is a Master Coach and Certified Equus Coach with a background in medicine and public health.
Jennifer Voss is a Master Coach, a Master Equus Coach, and business consultant. You can find out more about me here.
About Brené Brown
Dr. Brené Brown has spent over fifteen years studying vulnerability, courage, shame, and empathy. Her groundbreaking research has been featured on PBS, NPR, CNN, and Oprah Winfrey's Super Soul Sunday. Brené is the author of three #1 New York Times bestsellers: The Gifts of Imperfection, Daring Greatly, and Rising Strong, as well as her most recent release, Braving the Wilderness. Her TED talk, "The Power of Vulnerability," is one of the top five most-viewed TED talks in the world, with over 30 million views.  ​
The Daring Way™ is a highly experiential methodology based on Brené's research.  The method was designed for work with individuals, couples, families, work teams and organizational leaders.  This research has been presented all over the world, and we are thrilled to bring this workshop to Tennessee. We will explore the barriers to connection and authenticity while identifying choices, practices, and skills to move us toward living more purposeful and fulfilled lives.
Brené is not only brilliant, she's also damn funny! Check out a few of her clips…
Step into the Arena: Half-Day with Horses
Step into the arena with a horse and…
Build personal awareness and understanding of how you want to show up in the arenas that are important to you
Learn to lead from your core personal values
Identify new choices and practices to live bravely
Grow resilience by meeting challenges with courage and self-compassion
Workshop Logistics
October 5th & 6th – Two-Day Daring Way™ Intensive
10:00am – 5:00pm each day
Lunch, assorted drinks, snacks and workbooks are included
Breakfast, dinner, lodging and transportation to and from the event are not included
Knoxville, TN – Specific location to be announced
Register early and receive a $100 discount!
$495 Early Bird Pricing
$595 per person after September 13, 2018
October 7th – Optional Half-Day Equus Coaching Experience
9:00am – 1:00pm
Assorted drinks and snacks are included
Breakfast, lunch and transportation to and from the event are not included
STAR (Shangri-La Therapeutic Academy of Riding)
$125 per person 
Registration for this event is now closed
Other Details
The optional equus half-day is limited to 10 participants and is only open for those attending the two-day Daring Way intensive.
No horse experience is needed and all activities will take place on the ground. There will be no horseback riding at this event. All you need to bring is an open mind and closed-toed shoes.
We hope you will join us for the magic!
Jennifer Voss ~ Jennifer@TruthExperience.net
Jennifer Johnsen ~ Jen@JenniferJohnsen.com
Renee Sievert ~ Sievertservices@aol.com
Cancellation Policy
Due to the costly non-refundable nature of reserving venues for various events and the limited spaces available in workshops, a cancellation made 30 days or less from the dates of an event is non-refundable. Fifty percent of the event fee will be refunded for a cancellation made between 60 to 31 days prior to a scheduled event. Any cancellation made 61 days prior to a schedule event is fully refundable minus any processing fees. Please note, that should you need to cancel every effort will be made to apply any non-refunded amount to a future event.