My daughter graduated from high school a while ago
and moved 300 miles away. Our paths, in essence, diverged a bit.
As she was preparing to move, I found myself musing about "paths" and what connections we create in life when our "paths cross."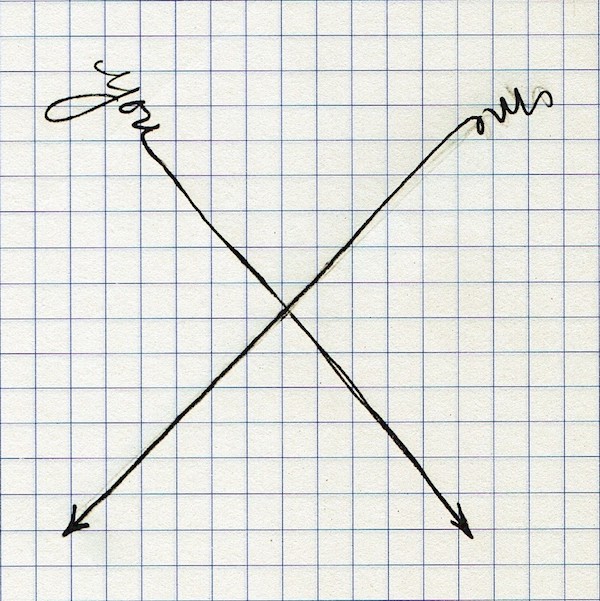 Most people with whom we cross paths in life look like this:
* We pass on the street, exchange a smile, and brighten each other's day.
* We sit next to each other on a flight and share a story.
* We go on that blind date and it still serves as our best "worst date ever" story.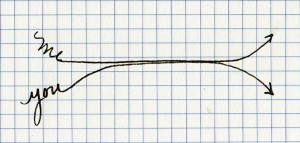 Then there is the group of people with whom we walk the same (or close parallel) path for a while:
* We were next door neighbors growing up and mastered a mean rendition of Sonny & Cher's I Got You, Babe.
* We were friends in high school or college, and while Facebook has provided some connection, our lives have taken us in different directions.
* We strategized, laughed, and achieved lofty goals together until our career paths led us to different types of work. Despite our best intentions to stay in touch, our life paths have diverged. And, oh, how I cherished those times we spent venting about some of our co-workers together.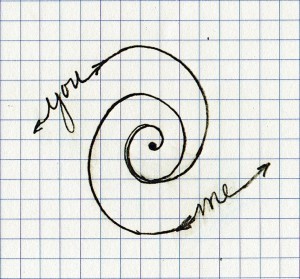 And then there are those precious few who come in to our life and our paths entwine in such a way that they do not ever completely untangle (nor do we want them to).
* We were best friends (the true BFF kind). While we may only see each other every five years, we catch up in an instant with a laugh and a hug.
* We are a sub-set of the "Team," on the same mission, part of a chosen family, who have been drawn together to help change the world.
Within these relationships, there is freedom to move.  We can come together in the center (a home of sorts) and still, while never losing the sense of connection, have our own space. Even if we travel apart, we never forget the way home.
One bond—the parent/child one—is even more tightly woven than this.  The swirl image is still the same.  Yet, in my mind, the paths don't start out by converging into the center and "crossing" there.  The child's path begins in the center.
Which brings me back to Alex's graduation.  Our paths over the past years have been a dance of moving away from and then back to the center.  As it should, the physical distance between us has increased and the time in the center has lessened.  Yet, energetically, we will always be connected in that space where her path began.
I hope she knows that I will always be here.  She can always come home.
In Truth & With Love,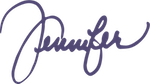 aka Mom
P.S. – What does this have to do with a tattoo?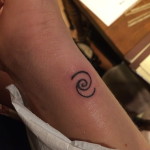 Alex knew about this image and decided to surprise me for Mother's Day. She wanted me to know that she will always have the roadmap to find her way back home. While I am not particularly a fan of her getting a tattoo, that child is one smart cookie.
* Originally posted May 16, 2014